Seattle Seahawks 2022 Mock Draft 6.0: Building the bridge to success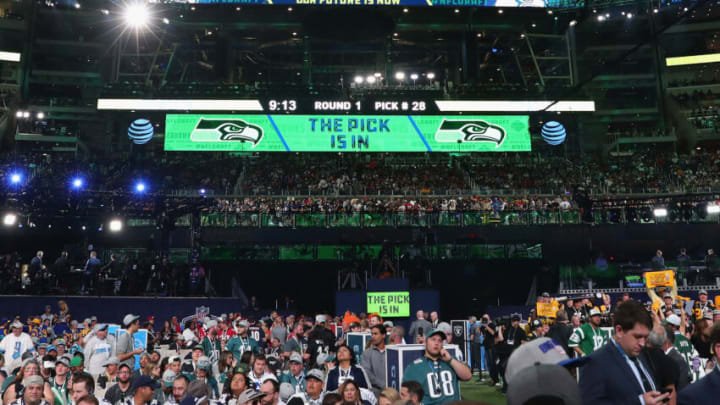 ARLINGTON, TX - APRIL 26: A video board displays the text "THE PICK IS IN" for the Seattle Seahawks during the first round of the 2018 NFL Draft at AT&T Stadium on April 26, 2018 in Arlington, Texas. (Photo by Tom Pennington/Getty Images) /
With the draft less than a month away, no better time than now to divulge into addressing the needs of this Seattle Seahawks team with final predictions in my mock draft 4.0.
Unlike years past, the Seahawks enter this draft with no franchise quarterback and no clear direction of where things are going to go. With a 70-year old head coach, time really isn't on the side of the Seahawks. But, it is April and now, the Seahawks will join their fellow teams picking in the top 10 and rejoice in the endless optimism that surrounds teams with foggy futures.
In fact, there might actually be a reason for real optimism as Pete Carroll and John Schneider did compile the roster together that ended up winning the Super Bowl in the 2013-2014 season. While many have questioned their ability in evaluating talent since then, they are being given the chance to prove those doubters wrong.
Seattle Seahawks Mock Draft 6.0: Building the bridge to success
For the past decade, Russell Wilson and Bobby Wagner have served as the cornerstones of this franchise. Both have found new homes – Russell Wilson in Denver and Bobby Wagner joining divisional rival, Los Angeles Rams. Those were the last two pillars holding up the bridge that Pete and John built back in 2012.
As they hope to be looking toward a better future, the 2022 Draft serves as a viable starting point with 3 picks in the top 41. A deep draft class can certainly help a roster with many holes at critical positions. While the quarterback class is considered "weak", no one thought Russell Wilson would turn into a future Hall of Famer when Seattle selected him back in the 3rd round of the 2012 draft.
12s need to remain in the optimistic sphere surrounding this organization. Hope helps navigate you through the cloudy unknown. Especially, when it feels as if there isn't much else to fall back on. Here are my hopes for the Seattle Seahawks 2022 draft selections.