Where the Seahawks rank in overall value is quite interesting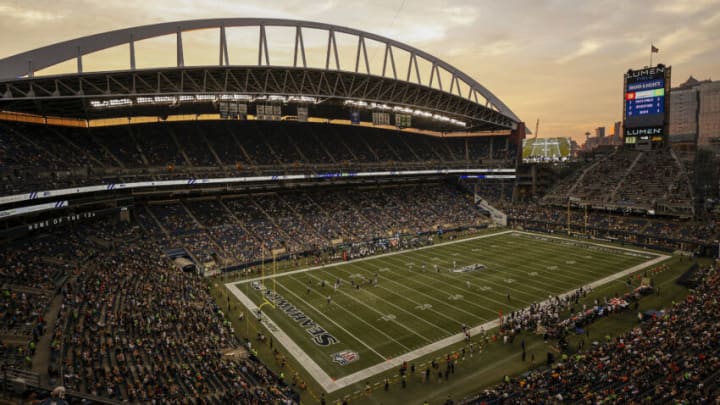 SEATTLE, WASHINGTON - AUGUST 18: A general view of Lumen Field during the preseason game between the Seattle Seahawks and the Chicago Bears on August 18, 2022 in Seattle, Washington. (Photo by Steph Chambers/Getty Images) /
The Seattle Seahawks might have lost some key players this offseason but the team certainly hasn't lost any overall value, according to Forbes Magazine.  
If you own an NFL team, you are rich. That isn't breaking news. But if you own an NFL team you are only going to get richer. Values for NFL teams overall are skyrocketing. This is why owners don't like to sell teams. And this is a good reason Seahawks chair Jody Allen also doesn't want to let them team go.
I don't blame her. If I was the chair of an NFL team, I wouldn't want to see the cash cow of a franchise leave either.
According to Forbes, the Seahawks are worth a lot of money. $4.5 billion, in fact. But even at that crazy amount, Seattle still only has the third-highest price tag in the NFC West.
The Seahawks overall value is insane
Overall, Seattle is valued as the 14th-highest in the league. The number one team is the Dallas Cowboys at an astounding $8 billion. In fact, Dallas has so much worth that they outrank the second-highest team, the New England Patriots, by $1.6 billion.
In the NFC West, the Los Angeles Rams are first in the division and third overall in the NFL with a value of $6.2 billion. At eighth overall and second in the division is the San Francisco 49ers with a worth of $5.2 billion. The least valued team in the NFC West at $3.27 billion and 30th overall is the Arizona Cardinals.
By the way, if you happen to be a Bengals fan (and good for you, though I am uncertain how you stumbled upon this article on a Seahawks site), your team might be good but you are also the least valued team in the NFL at a measly $3 billion.
The bottom line is that NFL owners aren't having to beg for food. They are rich and their teams are making them richer. This also means if the Seahawks do get sold in a few years, whoever buys them is going to already have to have a ton of money.