Seahawks report card Week 8: Seattle dominates again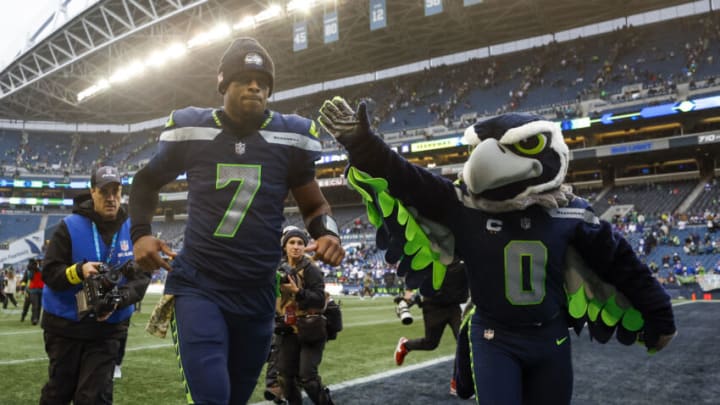 Mandatory Credit: Joe Nicholson-USA TODAY Sports /
The Seahawks won their third straight game with a victory over the New York Giants in Week 8. And Seattle looked dominant again. Don't let the final score fool you. Seattle would have won even more easily except for a couple of big mistakes.
But is this Seattle team where you thought they would be – 5-3 – after eight games? If you say, "Yes," you probably aren't being truthful. And that this team has been so successful makes them even more fun to pull for. As Tyler Lockett said after the game, "It's amazing what we can accomplish when no one cares who gets the credit."
And another great thing is that this team could be even better in the coming seasons. Each week a new rookie seems to make a great impact. In Week 8, that rookie was Boye Mafe. Here are the grades for the entire team from Sunday.
How did the Seahawks grade in Week 8?
Quarterback
Geno Smith was once again more than just efficient. He created plays with his feet and threw with pin-point accuracy on deep passes. He finished 23 for 34 for 212 yards and 2 touchdowns. But he should have had at least 250 yards and 3 touchdowns except for an uncharacteristic drop by Lockett. There is still a lot of football to watch and Geno could digress, but at this point, he deserves to be mentioned in MVP voting.
Grade: A
Running backs
The Giants have a good defense and they are excellent against the run. Ken Walker didn't have many holes to run through but his 16-yard score to basically ice the game for the Seahawks was brilliant. It was also interesting to see so many sets with Travis Homer and DeeJay Dallas both in the game. Seattle, most importantly, didn't give up on the run and finished with 87 yards on 25 carries.
Grade: B
Wide receivers/tight ends
Tyler Lockett had one of his most interesting games. He is normally sure-handed and doesn't turn the ball over but in the first half, he fumbled on the Seattle 2-yard line and dropped a sure touchdown pass. But then he made up for it with a 33-yard touchdown pass that put the Seahawks in the lead for good.
DK Metcalf played and did decently well (he did have a drop too) but caught a touchdown pass. And Marquise Goodwin caught 4 of his 5 passes so he is definitely starting to look like a viable WR3 option.
Grade: A
Offensive line
The Seahawks rookie tackles were fine but the interior of the line wasn't overly good. The Giants had 10 quarterback hits and 6 were from the defensive tackles (Leonard Williams had 5 by himself.) Seattle averaged just 3.5 yards a carry. But give the Giants their due, they are good defensively.
Grade: C
Defensive line
The Giants have been a great running team in 2022 but by the end of the game Sunday they had only run for 78 yards on 28 carries. Seattle had 8 quarterback hits and 4 of them were from the interior of the defensive line. Not much more you could ask from this group than what they accomplished in Week 8.
Grade: A+
Edge rushers/linebackers
This group was also fantastic. Cody Barton may have had his best game of the season and had a sack and a pass defended. Uchenna Nwosu should be a Pro Bowler and he had 2 more sacks. Bruce Irvin played a ton of snaps and was very good and had a tackle for loss. But one play that shouldn't go overlooked is how Jordyn Brooks just absolutely stood up Giants running back Saquon Barkley when the hole was beginning to open. Brooks made a full-grown man play that most players can't make.
Grade: A
Cornerbacks/safeties
The worst part about this game was that Ryan Neal got injured. He was a beast during the game and continues to make an extremely positive impact on the defense when he has chances to play. Luckily, it seemed he was just dealing with cramps so should be OK. Mike Jackson had likely his best game of the season too and hit hard, LOB-style. Giants QB Daniel Jones finished 17 for 31 for 175 yards and no touchdowns.
Grade: A
Special teams
The key here was that the Seahawks forced two fumbles by Giants punt returner Richie James and they were both game-changers. How great was it to get Travis Homer back? The special teams ace was missed the last several weeks as Homer was out with an injury. Oh, and Jason Myers made a 51-yard field goal that was right through the middle and could have been good from 60-plus.
Grade: A