They say success starts at the top, and the Seahawks are fortunate to have one of the best and most dedicated owners in the National Football League.
Although Paul Allen's dedication hasn't translated into a Super Bowl win just yet, folks in Seattle have enjoyed successful years that were not so prevalent under previous ownership. Last year aside, Seattle has been one of the more successful teams since 2004. Fans have come to anticipate annual playoff appearances, and the possibility of competing for a Super Bowl has become a reality.
Any Seahawks fan will agree: that type of success wasn't a possibility under previous owner Ken Behring. It seemed as if the Seahawks were more likely to move to California than make an appearance in the playoffs.
Even if Paul Allen has yet to bring a Super Bowl trophy back to Seattle, no one can say he isn't trying. According to Jason La Canfora of NFL.com, the Seattle Seahawks have spent more money than any other NFL team from 2004-08, besides the Dallas Cowboys. And although team expenditures are somewhat restricted by the salary cap, these numbers include gross totals spent on player salaries and bonuses.
During that period (2004-08), the Seahawks spent $552.42 million, which equates to about $12.27 million per win (45 wins, 15th in league from 2004-08). It is obvious the additional spending hasn't translated into the type of return on investment that was probably envisioned, but you can't say ownership isn't trying.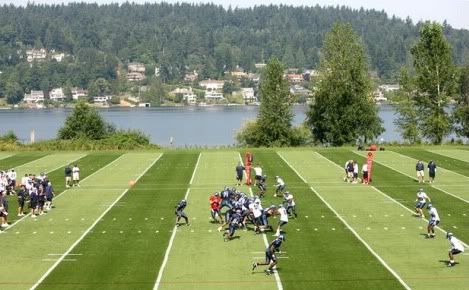 And remember, Paul Allen's willingness to spend has not only brought success through high-priced athletes; Allen helped fund the construction of Qwest Field, lured former head coach Mike Holmgren from Green Bay, and developed the Virginia Mason Athletic Center – a beautiful practice facility and team complex on the shores of Lake Washington.
Seattle fans should appreciate great ownership. We've had to endure Ken Behring, and, more recently, the Howard Schultz/Clay Bennett duet that left us without a basketball franchise. We haven't exactly been spoiled with the most dedicated owners over the years.
Enter Paul Allen, whose spending and commitment has brought us our only Super Bowl appearance and continues to keep the Seahawks competitive. The franchise has 45 wins between 2004 and 2008 (ranked ninth in the league), so Allen's dedication hasn't been squandered, even if his cost per win isn't spectacular.
The only team to spend more than the Seahawks was the Dallas Cowboys ($566.89 million); Cowboys owner Jerry Jones has never shied away from spending money. Fortunately for Seattle (and unlike Dallas), Allen hires people to manage the front office, and understands that personnel decisions should be made by football people who can proficiently evaluate talent. Owners who take control of personnel without advice are like politicians who determine war strategies.
Hopefully, Mr. Allen's perseverance will someday result in a championship for the city of Seattle. Commitment and competence from the top is the first ingredient for success, but everything is ultimately dependent on player performance. Thank you Paul Allen – your dedication is not going unnoticed.
Tags: California Clay Bennett Dallas Cowboys Franchise Howard Schultz Jerry Jones Ken Behring Lake Washington Lombardi Trophy Los Angeles Mike Holmgren National Football League Oklahoma City Oklahoma City Thunder Paul Allen Qwest Field Salary Cap Seattle Seahawks Seattle Sonics Super Bowl Tim Ruskell Virginia Mason Athletic Center VMAC