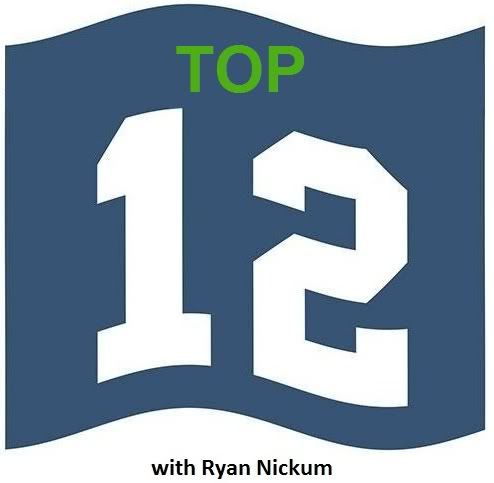 12. In solidarity with Vincent Jackson, the whole Chargers team goes out and gets drunk, leading to multiple DUIs and other alcohol-related arrests. The Seahawks easily beat the hungover Chargers.
11. It's an old school AFC West rivalry. Nostalgia is stoked, Qwest Field will be electric, and the Seahawks break out some vintage smash mouth defense. Dan Fouts has a flashback of Jacob Green crushing him, and he ends up wetting himself in his Lazy-Boy.
10. The Chargers got smoked by the Kansas City Chiefs while playing in a downpour. Seahawks fans: start your rain dances.
9. Ryan Mathews has two fumbles and no touchdowns so far this season. Keep them coming Ryan. It's better to give than to receive and giving the ball to the Hawks' defense is the greatest gift of all.
8. Qwest Field remains the loudest place in the NFL and Qualcomm Stadium is the quietest. The Chargers will need earplugs and the refs will need extra flags for all the false start penalties.
7. Shawne Merriman has had his head up his ass for a couple years. Imagine how distracted he'll be when his ex-girlfriend Tila Tequila raises the 12th Man flag before the game. Make it happen Seahawks brass!
6. Everyone was surprised when Matt Hasselbeck ran for a touchdown. Now that he's the second coming of Randall Cunningham, the Chargers will have to game plan for the threat of the fleet-footed Hasselbeck. This will free up John Carlson. Adjust your fantasy team.
5. God has Matt Hasselbeck starting this week on his fantasy football team and he's obviously a Justin Forsett fan.
4. Darren Sproles runs up the middle and gets tackled by 1,200 lbs. of defensive line and beaks open like a pinata.
3. Pete Carroll pops two 5-Hour Energy drinks before the game and his energetic enthusiasm is tripled. If you thought he was jazzed and pumped up before, just wait until he bursts onto the field on his gimpy knees and sacks Philip Rivers with a crushing hit that puts Rivers out for the season and garners a 4-game suspension… But the Seahawks win.
2. With Billy Volek in the game, the Chargers realize they made a tragic mistake trading Charlie Whitehurst.
1. The Chargers have a lightening bolt on their helmet, but Golden Tate is the one who's electric. He treats the Chargers defense like they were Western Michigan and runs a punt back and catches three TDs and 200 yards.
Ryan Nickum is a contributor to 12th Man Rising. He also publishes the blogs http://thisdayinbaldhistory.com, http://douchepon.com and http://hawkstrap.blogspot.com
Tags: Billy Volek Charlie Whitehurst Golden Tate Justin Forsett Matt Hasselbeck National Football League Pete Carroll Philip Rivers Qualcomm Stadium Qwest Field Ryan Mathews San Diego Chargers Seattle Seahawks Vincent Jackson