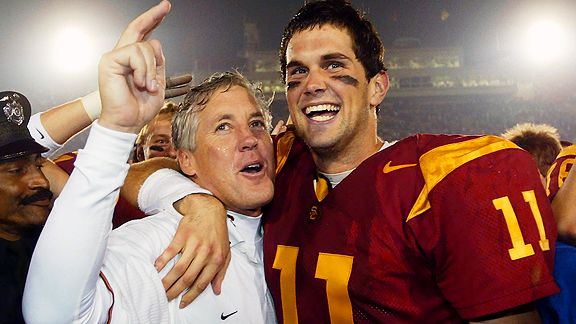 Scott Wolf of the Los Angeles Daily News is reporting that he is hearing that Seattle coach Pete Carroll has been talking to free agent QB Matt Leinart about the possibility of joining the Seahawks in 2011.
Leinart, of course, played under Carroll during their time at USC. Many were surprised that Carroll did not express any interest in Leinart last season after the Arizona Cardinals cut him.
This story comes on the heels of some news that we brought you a couple of days ago that there is still a pretty good chance QB Matt Hasselbeck could return in 2011. If this news is true, it will be interesting to see if the fact that Leinart is in the mix causes Hasselbeck to have a change of heart.
One thing is for sure, something has to be done soon lest the Charlie Whitehurt era begins in Seattle.
What say you folks? Hasselbeck or Leinart? Methinks I know the answer but I'm asking anyway.