Seahawks playoff scenarios entering week 16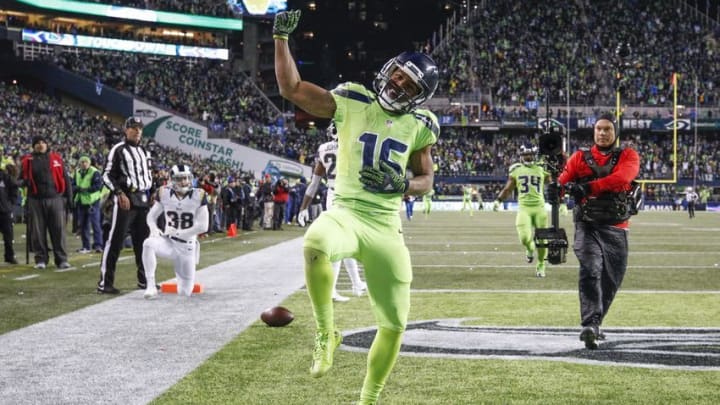 Dec 15, 2016; Seattle, WA, USA; Seattle Seahawks wide receiver Tyler Lockett (16) celebrates after catching a touchdown pass against the Los Angeles Rams during the fourth quarter at CenturyLink Field. Mandatory Credit: Joe Nicholson-USA TODAY Sports /
All of the possible Seattle Seahawks playoff scenarios as the NFL heads into Week 16. With two games left, there is still much that is undecided.
It is that time of year again. The NFL regular season is drawing to a close, and every team with a decent record is looking ahead to the playoffs, hoping to make a magical run to a championship.
The Seattle Seahawks are one of those teams, and they know from experience that playoff seeding is extremely important. Their three trips to the Super Bowl have come when they've had home field advantage. Their last two playoff exits have come on the east coast with 10:am start time.
Here are each of the Seahawks playoff scenarios as we stand right now:
Seahawks miss the playoffs
What needs to happen: HA HA HA HA HA…. Seriously, are you new are something?
Seahawks win NFC West
What needs to happen: Nothing. They clinched a week ago when they beat the Rams. Pay attention!
Seahawks ends up with No. 4 seed
What needs to happen: The Seahawks must be passed in the standing by both the NFC South winner and the NFC North winners. There are two teams alive in each of those divisions.
If the Seahawks lose one game and win one game, than Detroit and Atlanta must both win out for Seattle to drop to the No. 4 seed. If Seattle loses both of their remaining games, than it is also possible for Green Bay or Tampa Bay to pass Seattle if they can also win their division.
Seahawks end up with the No. 3 seed
What needs to happen: This is essentially the same as with the No. 4 seed, but with only one of the teams passing them. Seattle must lose at least 1 game. Either Detroit or Atlanta must lose at least one less game than Seattle in the next 8 days.
If the Seahawk lose both of their remaining games, they can still end up with the No 3 seed the division winner of the South or North end up with a 9-7 record.
Seahawks clinch 2nd seed in NFC
What needs to happen: This can happen this week if Seattle beats Arizona while both Atlanta and Detroit lose. If either of those teams win, the Seahawks will have to wait until Week 17 to know if they will have a week off in the playoffs.
If Seattle beats both Arizona and San Francisco, they will clinch the No. 2 seed no matter what Atlanta and Detroit do. If Seattle loses 1, they need both Atlanta and Detroit to lose at least one as well.
The Seahawks can actually claim the No. 2 seed even if lose both their remaining games, but they would need Tampa, Green Bay, Atlanta, and Detroit to all finish 9-7 for that to happen.
Next: A healthy Seahawks team? weird...
Seahawks get No. 1 seed and home-field advantage
What needs to happen: Time travel must be invented, and they have to go back in time and lose at least 1 less game. They cannot catch Dallas, who clinched the No. 1 seed when the Giants lost on Thursday.