Four Seahawks who might not return in 2019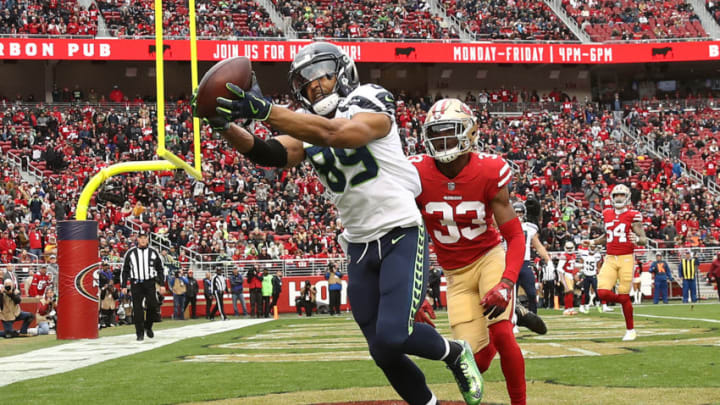 SANTA CLARA, CA - DECEMBER 16: Doug Baldwin #89 of the Seattle Seahawks catches a touchdown against the San Francisco 49ers during their NFL game at Levi's Stadium on December 16, 2018 in Santa Clara, California. (Photo by Ezra Shaw/Getty Images) /
Attrition always happens on NFL in the offseason, of course. But the Seahawks have four key players who might not return in 2019.
We love our Seahawks, right? No matter who puts on the uniform, they become a part of our favorite team and we want them to succeed. Sadly, every favorite Seahawk leaves at some point. Some retire and some get cut or traded.
Of course, no one really can truly predict what general manager John Schneider will do every offseason. He keeps us guessing when it comes to drafts and signing and releasing players. Seattle did a huge overhaul last offseason when Michael Bennett and Richard Sherman were traded and released, respectively. Kam Chancellor more or less retired due to a neck injury but still stuck around the team.
Bennett and Sherman left Seattle not because of on-field issues but simply because the organization tired of their outspokenness and perceived negativity in the locker room. Whether this was true or not will probably come out in a book one day but no one can say for sure currently.
For the same reason that Bennett and Sherman left I am assuming Earl Thomas will not be re-signed either. In fact, it seems such a certainty that the Seahawks will let Thomas leave that I am not including him among the four players that I can see leaving as well. Thomas left the field in week four after being injured by flipping off the Seattle sideline; I see Seattle metaphorically returning the finger to Thomas by not spending any time trying to re-sign him.
So here are four guesses at who else might not return to Seattle in 2019.