With Russell Wilson signed, Seahawks could trade Frank Clark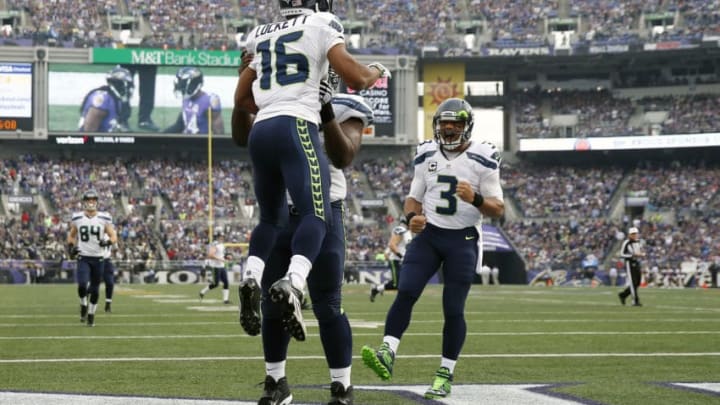 BALTIMORE, MD - DECEMBER 13: Wide receiver Tyler Lockett #16 of the Seattle Seahawks celebrates with teammates defensive end Frank Clark #55 and quarterback Russell Wilson #3 after scoring a first quarter touchdown against the Baltimore Ravens at M&T Bank Stadium on December 13, 2015 in Baltimore, Maryland. (Photo by Rob Carr/Getty Images) /
The Seahawks have set aside a lot of money for Russell Wilson for the next five seasons. That means Frank Clark may have to go.
The NFL Draft is closing in, 12s, and the Seahawks need some help at various positions. Seattle, though, has extended Russell Wilson through 2023 so quarterback is not an area of concern. But edge rusher is. Frank Clark was franchise tagged this offseason and should be in Seattle through 2019. But should the Seahawks think about trading him?
Here's the thing. Clark is a potentially great player. We already know he is a very good one. But after 2019, Seattle will have to decide whether to sign Clark, Jarran Reed or Bobby Wagner. All three of these excellent players are free agents after 2019. One or two of them should be re-signed. But doing so with all three should not be expected. That would mean Seattle has put a lot of money into four players and that doesn't seem financially sound.
One possible fix for a potential fiscal problem is to trade Clark. Clark has more trade value than Reed and Wagner is nearly as important as Wilson. The Seahawks defense without Wagner is nowhere as good. If Clark were to be traded, it would need to happen soon and before the NFL Draft.
Clark should be worth a first round pick from another team. Maybe a first round pick plus a later round choice as well. Seattle currently only has four draft picks in 2019 and needs more. One easy way to add picks is to trade a player of value. Hardly anyone on Seattle's roster has more value than Clark.
I don't want to see Clark traded; I want to see him extended. But Wilson is now going to earn an average of $35 million a season through 2023. Wagner is probably going to make $15 million a year if and when he re-signs with the Seahawks. Reed could make at least $10 million a season. That doesn't leave a lot of money. If Clark can be traded for a fairly high first-round draft pick Seattle could choose his successor. And possibly that successor would come to be as productive as Clark, but he would definitely be much cheaper for several seasons.