Four explosive Seahawks plays for your 4th of July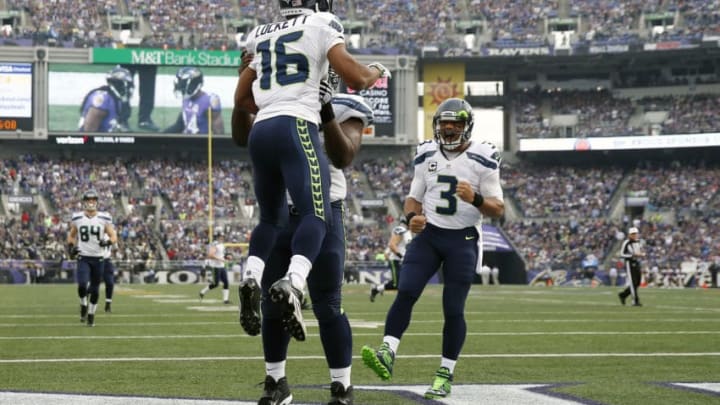 BALTIMORE, MD - DECEMBER 13: Wide receiver Tyler Lockett #16 of the Seattle Seahawks celebrates with teammates defensive end Frank Clark #55 and quarterback Russell Wilson #3 after scoring a first quarter touchdown against the Baltimore Ravens at M&T Bank Stadium on December 13, 2015 in Baltimore, Maryland. (Photo by Rob Carr/Getty Images) /
To help 12s celebrate the 4th of July, here are four explosive (fireworks!) plays the Seahawks successfully executed in the last decade.
The Seahawks can be a fun team to watch. Fans of other teams may not be aware of this. Maybe they see Seattle as this run-heavy team that plods its way through games. As 12s know, this is not the case. So what better way to celebrate the 4th of July (other than, you know…living your life) than to talk about four plays where Seattle went boom!
Russell Wilson to Tyler Lockett versus the Broncos
Tyler Lockett had a huge year in 2018, of course. When Russell Wilson threw to Lockett he had a perfect passer rating. Lockett is an explosive player and used every inch of his speed and catching ability to put himself in a position to be Seattle's number on receiver in 2019.
Now that Doug Baldwin has retired, Lockett is pretty much the only proven receiver in Seattle. He also will be expected to teach young receivers, like D.K. Metcalf, how to become good NFL receivers as well.
What makes the play against the Broncos great is how Lockett jukes his corner and then runs a post at such a sharp angle the corner simply has no time to catch up.
Kam Chancellor runs a pick back
In the NFC Divisional playoff game, with the game in doubt, Chancellor picked off Cam Newton and returned the ball 89 yards for a touchdown. At the time, the Panthers were driving for a potential tying score. It didn't happen. Thank you, Kam.
Richard Sherman gets the tip
The Seahawks were destined to win the Super Bowl for the 2013 season. OK, their destiny was whatever it was going to be. But they did win the championship and a big reason why was the tip of a Colin Kaepernick pass by Richard Sherman in the NFC Championship game. Maybe Seattle wins the game and the Super Bowl even if Sherman didn't make this play. But he did and it is now part of Seattle history.
Beast Quake
In the 2011 NFC Wild Card game, Marshawn Lynch had one of the greatest runs in NFL history. He broke records for tackles broken on a touchdown run. It was special to the Seahawks, of course, But it was objectively special if you are a football fan. Did it make Seattle Super Bowl champions for 2010? No. But it helped set the tone of things to come for 12s.