Predicting the starters on the Seahawks offense in 2020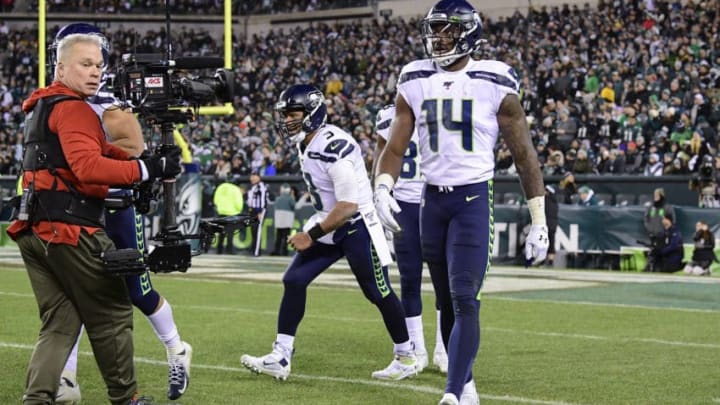 PHILADELPHIA, PENNSYLVANIA - JANUARY 05: DK Metcalf #14 of the Seattle Seahawks reacts after his touchdown reception against the Philadelphia Eagles in the NFC Wild Card Playoff game at Lincoln Financial Field on January 05, 2020 in Philadelphia, Pennsylvania. (Photo by Steven Ryan/Getty Images) /
The Seahawks offense will undergo a bit of change in 2020 but this might be a good thing. Here is who will start for Seattle in 2020.
There seems to be a lot of complaints about the Seahawks offense from 2019. Sure, they started slowly a bunch, but by the end of the game they usually had scored enough to win any given game. Seattle had the 8th best offense in the league at 374.4 yards per game. They were 14th in passing and fourth in rushing. They were good enough.
But like every other team in the league, some of the faces on the Seahawks starting offense will be different next year. Here is my best guess at who starts where.
Quarterback – Russell Wilson
I am not going to spend a lot of time explaining why Russell Wilson will be the starting quarterback for the Seahawks in 2020. If you need to ask why he will be, you are either 1) new to the sport of football, 2) just woke up from an eight year coma (congrats! by the way) or 3) not smart. In 2019, Wilson led the NFL in 4th quarter comebacks (4) and game-winning drives (5). He's great.
Running back – Chris Carson
Chris Carson was fifth in the NFL in rushing in 2019 with 1,230 yards. He also had 37 receptions, a career-high, and 10 of those went for a first down. Carson injured his hip late in the season but appears to be on track to be back by week one of 2020.
Receivers – Tyler Lockett and D.K. Metcalf
If both Tyler Lockett and D.K. Metcalf stay healthy in 2020, they could be one of the best receiving tandems in the NFL. Lockett went over 1,000 yards receiving for the first time in his career in 2019 (1,057 and 8 touchdowns). Metcalf exceeded expectations in his rookie season of 2019 and seems poised to be a superstar. This past season he had 900 yards receiving and 7 touchdowns.
If you take away week 16 when Metcalf barely played and had just one target, in the last half of the season plus the two games in the playoffs, Metcalf averaged 79.6 yards receiving a game which translates to 1,274 yards over the course of a whole season.
Tight ends – Will Dissly and Greg Olsen
Maybe it is weird that I am going with the Seahawks starting two tight ends instead of just one. But Seattle used George Fant quite a bit as an extra tight end in 2019. I think Seattle does the same thing this year too, but actually has a tight end in the Fant position. This makes an opposing defense have to account for someone who can block but also actually catch the ball. Both Greg Olsen and Will Dissly are great at catching the ball.
Offensive line – left tackle Duane Brown, left guard Jamarco Jones, center Joey Hunt, right guard D.J. Fluker and right tackle George Fant
This is where things get a little different. Brown is set at left tackle and he is really good. I think Jones did enough on the interior of the line for the Seahawks to make him a starter at guard. Justin Britt will be a roster cut and while Seattle will draft Cesar Ruiz, Hunt will be the starter week one. D.J. Fluker has one year left on his Seattle contract and won't be back in 2021. And I think Germain Ifedi leaves via free agency but that Seattle talks George Fant into staying and makes him Ifedi's replacement.