Seahawks: Three quick impressions from victory over Vikings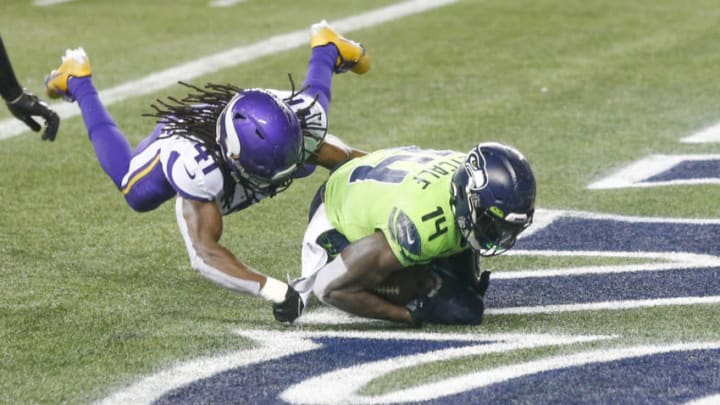 Oct 11, 2020; Seattle, Washington, USA; Seattle Seahawks wide receiver DK Metcalf (14) catches a touchdown pass against Minnesota Vikings free safety Anthony Harris (41) during the fourth quarter at CenturyLink Field. Mandatory Credit: Joe Nicholson-USA TODAY Sports /
The Seahawks moved to 5-0 for the first time in team history with a victory over the Vikings in week five.
Have you been able to sleep, 12s? After yet another Seahawks win with late-game heroics, a lack of sleep is probably getting to be the Seahawk fan way. There was a lot to take away from Seattle's 27-26 victory. Here are three quick impressions.
The Seahawks need to let Ken Norton, Jr. go from his defensive coordinator position
Lots of 12s likely never liked the addition of Ken Norton, Jr. when he was hired as defensive coordinator in Seattle in 2018. Norton, Jr. was a very good NFL linebacker and seems to be a good linebackers coach. But when he oversees an entire defense, it doesn't work out.
Norton, Jr. spent three seasons being the Raiders DC before he joined the Seahawks in the same position. Norton, Jr. failed as the Raiders DC and he has failed as the DC of the Seahawks. He calls weird alignments at odd times (rushing three when the Vikings had the ball 3rd and 9 when pressure had been working only allowed Kirk Cousins more time to pick up a first down, for instance).
Make no mistake, Minnesota's offense dominated the Seahawks defense on Sunday. Sure, Seattle was without Jamal Adams but doesn't it appear that 12s simply have to make up new excuses every Sunday for the performance of the defense? The fault lies with Norton, Jr.
Minnesota completed dominated for 56 minutes but 4 bad minutes cost them the game
Let's look at the statistics. Minnesota held the ball for 39:28 compared to Seattle's 20:32. The Vikings picked up 31 first downs to Seattle's 18. Minnesota outgained Seattle 449 yards to 314. For nearly the entire game, the Vikings chewed up yards and clock. But a two-minute span in the third quarter where Seattle scored three touchdowns on seven plays changed the game.
Then when Russell Wilson got the ball back with less than 2 minutes to go, he drove his team down for a game-winning touchdown.
Kirk Cousins helped with a fumble and an interception in the third quarter, but if Seattle were playing the Baltimore Ravens, for example, this game would have had an ugly final score.
There can be no doubt that Russell Wilson's number one target now is D.K. Metcalf
D.K. Metcalf has quickly become a very good receiver. For someone who came into the league doubted that he could run a full route tree, he has shown he can and do so well. Last season, Tyler Lockett was Wilson's favorite target. But as the games grind on this year, Metcalf is becoming the alpha.
There is no better proof of this than on the Seahawks final drive of the night. When Seattle absolutely needed a touchdown, Seattle went on a drive than included 13 plays. 6 of those plays were attempted passes to Metcalf. On Seattle's final three plays, including the game-winning score, they were all attempts for Wilson to throw to Metcalf.