Seahawks should fire Ken Norton Jr and hire Dan Quinn but they won't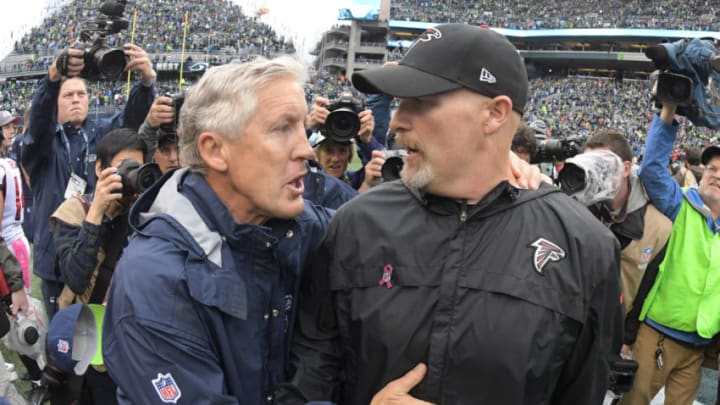 Oct 16, 2016; Seattle, WA, USA; Seattle Seahawks coach Pete Carroll (left) shakes hands with Atlanta Falcons coach Dan Quinn after a NFL football game at CenturyLink Field. The Seahawks defeated the Falcons 26-24. Mandatory Credit: Kirby Lee-USA TODAY Sports /
Dan Quinn has been fired in Atlanta so the Seahawks need to hire him and fire Ken Norton, Jr.
I feel like I have been harping on this for some time now but I like the Seahawks and I want them to win a Super Bowl. But they won't win one if Ken Norton, Jr. is their defensive coordinator. Norton, Jr. is not good at his job as a coordinator. He wasn't with the Raiders from 2015 through 2017 and he hasn't been with Seattle since 2018.
Dan Quinn was an excellent defensive coordinator with the Seahawks and did OK as a head coach with the Falcons over taking over that job in 2015. Atlanta made the playoffs in 2016 (lost in the Super Bowl, of course) and 2017. Ultimately, though, Quinn failed because of two things. One was he did not make needed corrections late in games. The second part was the health and demise of his defense.
In Seattle, a lot of 12s blame Pete Carroll for the defensive issues in the last few years saying "it's Pete's defense." This is partly true. But it's also Pete's offense and that's doing pretty well this season.
Don't blame Pete Carroll
To dismiss the Seahawks defensive issues on Pete Carroll is unfair. Maybe he should take a bigger part in what the defense does week-to-week but that isn't his job as his job is to oversee the entire team. If he were solely in control of the defense there would be no need for Ken Norton, Jr. as defensive coordinator. There's be no need for a defensive coordinator.
Plus, to blame Pete Carroll is saying for nearly his entire coaching career he knew how to get the most out of defenses but in the last three years, not so much. It's an absurd argument.
In Atlanta, the Falcons had a defense-centered head coach but Dan Quinn didn't have a lot of the tools to advise his defensive coordinator on how to be more successful. Atlanta paid quarterback Matt Ryan and receiver Julio Jones a lot of money. The Falcons didn't use the same kind of resources to make the defense good.
Atlanta's salary cap this year shows that they spent $95.9 million towards offense (14th in the NFL and 48 percent of the team's overall cap space) versus $73.7 million on defense (25th in the league and 36.5 percent of the team's overall cap).
Sure, Seattle's difference isn't much different but 3 of Seattle's top 6 contracts (and 4 of their top 8) go to defensive players. The Seahawks aren't afraid to spend money and individually some of those players (such as K.J. Wright and Bobby Wagner) are doing well. But collectively they are terrible. Seattle is last in the league in defense and it isn't close.
Therein lies the problem. NFL offenses need a team structure to do well, sure. But Russell Wilson has proven that even with bad offensive lines he can produce points. A defense can't do the same things because they are by nature reactive to what an offense does. Norton, Jr. simply does not know how to put his players in formations that are prepared to react successfully.
Ideally, Seattle would hire Quinn and demote Norton, Jr. to linebackers coach. But this won't happen. First, would Norton, Jr. even accept the demotion? But more importantly, Pete Carroll is not going to make this kind of move midseason. He is a loyal guy. And that, while a good trait as a human being, is a bad trait for a football coach with a team on the cusp of greatness.