Seahawks make two franchise-changing moves on Tuesday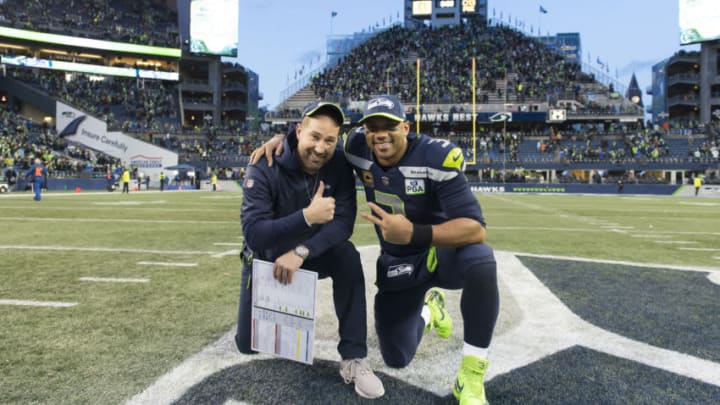 Dec 30, 2018; Seattle, WA, USA; Seattle Seahawks offensive coordinator Brian Schottenheimer and Seattle Seahawks quarterback Russell Wilson (3) pose for a photo after the game against the Arizona Cardinals at CenturyLink Field. Seattle defeated Arizona 27-24. Mandatory Credit: Steven Bisig-USA TODAY Sports /
The Seahawks announced two non-player involved moves on Tuesday.
The Seahawks announced that they had extended general manager John Schnieder's contract through the draft of 2027 on Tuesday and also announced that Seattle had fired offensive coordinator Brian Schottenheimer. This is oddly franchise-changing stuff for a franchise that normally holds on to its coaching staff beyond their NFL expiration date yet also doesn't overpay for front office brass.
John Schneider is worth holding onto. To be honest, I am not sure at all why 12s have any mixed feelings about Seattle retaining Schneider for six more seasons. In the 11 years since he became the Seahawks GM Seattle has made the playoffs 9 times. How many – literally, how many? – other teams can say they have made the postseason that many times in the most recent 11 years? Not many. The Patriots? Yes. The Steelers? No.
Schneider needed to be retained even though he was getting some love from the Detroit Lions, reportedly, to become that team's GM. Schneider along with head coach Pete Carroll keeps Seattle relevant and 12s mostly happy. (I mean, 12s, would you rather be the fan of most any other NFL team in the last 11 years? No.)
Brian Schottenheimer
Beyond Schneider extension, the Seahawks announced they had fired offensive coordinator Brian Schottenheimer on Tuesday. This is much more ground shaking in the way that a Beast Quake run would do. Pete Carroll simply doesn't fire coaching staff often so it seems odd that on the same day Seattle announced it had extended Schneider it had also let go Schottenheimer.
Seattle's offense was good under Schottenheimer but digressed immensely for no apparent reason over the last two-thirds of this season and in the Seahawks loss to the Rams in the Wild Card game this past Saturday there was clearly some misunderstanding between Carroll and Schottenheimer.
This made Schottenheimer expendable. The biggest question now besides who the Seahawks hire to replace Schottenheimer is if the person replacing Schotty has reign to do what he wants on offense without the meddling of Carroll. If he does, great. If he doesn't, that could affect the Seahawks for the next several years.