Seahawks mock draft 2021: Seattle to take a tight end first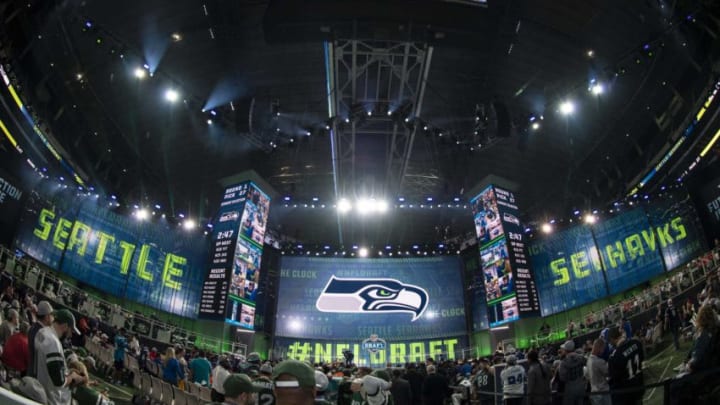 Apr 26, 2018; Arlington, TX, USA; A general view of the stadium floor during the selection of the Seattle Seahawks in the 2018 NFL Draft at AT&T Stadium. Mandatory Credit: Jerome Miron-USA TODAY Sports /
The Seahawks have about as little draft capital as a team can have, but they can certainly make moves that improve the team for the 2021 season.  Trading down in this draft is something that I think the Seahawks will definitely do in order to increase their capital and pick up some possible impact players.
If this team does trade down a bit, I don't believe it will try to increase future draft capital, because this is a team clearly trying to win a Super Bowl right now.  Seattle will most likely use this draft to add a healthy mix of offensive and defensive help in the form of players that can help out in the coming season.
The Seahawks main positions of need going into this draft are clear:  cornerback, receiver, and maybe center.  There will be other needs down the road, but these are the most prominent needs as we head towards the 2021 season.
Seahawks will likely trade to get more picks in 2021 NFL draft
Defensive tackle and linebacker are also positions of light need (as K.J. Wright remains unsigned).  These positions are the ones I targeted on behalf of the Seahawks in this draft, as I see them as crucial to improve so that the team, as a whole, is better.
I completed this simulation before the Aldon Smith news was released.  If he happens to be cut from the team because of it, I can see Seattle going after some help at edge rusher.  But for the sake of this article, I view Smith as being an active part of the 2021 roster.
With that being said, here's my full 7-round Seahawks mock draft, with the help of The Pro Football Network's mock draft tool. Let's begin by looking at the draft trades I have the Seahawks making.