What the Seahawks should expect from D'Wayne Eskridge in 2021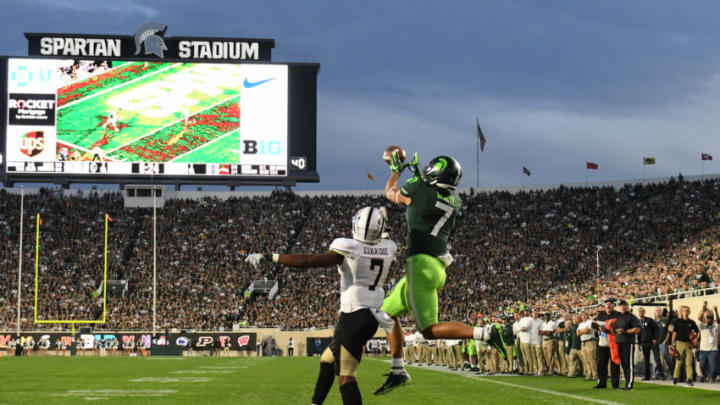 Cody White of MSU tries to snag a pass in the end zone against D'Wayne Eskridge of WMU Saturday, Sept. 7, 2019, at Spartan Stadium.Msu Vs Western Michigan /
Having only three draft picks available in the 2021 draft, and only one in the first two days, it was vital the Seahawks spent that valuable second day pick in the right way. They selected a wide receiver out of Western Michigan by the name of D'Wayne Eskridge.
Firstly, let's get to know a bit about D'Wayne Eskridge, from small-town Bluffton, Indiana and being small in physical stature, Eskridge went largely unrecruited by FBS schools but accepted the offer to attend Western Michigan.
Eskridge made 10 appearances for the Broncos in his freshman year, in those ten appearances he amassed a modest 181 scrimmage yards and 1 touchdown. In his sophomore season, his production increased to 519 scrimmage yards and 3 touchdowns, and again in his junior season to 776 scrimmage yards and a further 3 touchdowns.
D'Wayne Eskridge could be great fit for the Seahawks
His senior season in 2019 was cut short by injury, which resulted in him having a medical redshirt season in 2020.
Eskridge showed the value of that extra year by totaling 811 scrimmage yards and 8 touchdowns from just 6 games. In 2020, he also averaged 28.8 yards per return as the team's kick returner. All this and a 40-yard time of 4.38 recorded at his pro day, raised the attention of the Seahawks who were in need of a replacement for the departed David Moore.
Eskridge being drafted, added to the existing depth chart of D.K. Metcalf, Tyler Lockett and last year's sixth round pick Freddie Swain.
The Seahawks can fully expect Metcalf and Lockett to provide their normal high level of performance at WR1 and WR2 in 2021. Lockett recently received a contract extension which keeps him in Seattle through 2025, Metcalf's rookie contract ends after the 2022 season, but he will surely get another contract from the Seahawks.
So the Seahawks need a third/slot receiver that can develop into the longer-term replacement for Lockett. Could D'Wayne Eskridge be the receiver the Seahawks are looking for to provide that threat from the slot in the next two to three seasons, and then possibly expand their role to assume the WR2 role currently occupied by Tyler Lockett?