3 quick predictions for Seahawks versus Vikings week 3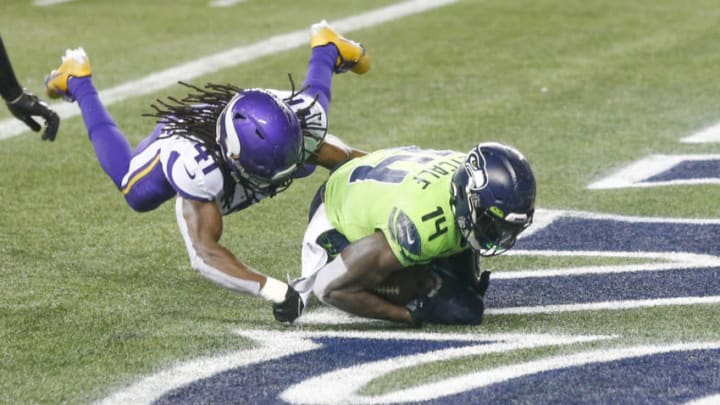 Oct 11, 2020; Seattle, Washington, USA; Seattle Seahawks wide receiver DK Metcalf (14) catches a touchdown pass against Minnesota Vikings free safety Anthony Harris (41) during the fourth quarter at CenturyLink Field. Mandatory Credit: Joe Nicholson-USA TODAY Sports /
The Seahawks visit the Vikings in week three of the 2021 season. Both teams need a win but Minnesota has the advantage of playing at home. Minnesota will be playing for the first time at home this season.
Of course, the Seahawks played better on the road in week one than they did at home in week two. D.J. Reed said this week on 710 ESPN Seattle that he can sometimes focus more in road games because the fans in the stands are against him instead of for him,
No matter, Seattle will need to play its first complete game of the year to win. A halftime lead simply isn't safe for Seattle against a good offense as we saw in week two. If Seattle leads by double-digits at half, great. But in the second half they need to score at least 14 points for first time this season.
Here are three quick things that will happen for Seahawks versus Vikings
Seattle will have 3 plays over 30 yards
Minnesota is 28th in the NFL in yards allowed per opponent pass attempt at 9.3. While we won't see the breakdowns that the Titans had against Seattle in week 2, Tyler Lockett and D.K. Metcalf will still get some chunk yards. Lockett will get two catches over 30 yards as opposing defenses still seem more worried about Metcalf than Lockett.
The other play of more than 30 yards will go to Will Dissly who will catch a seam pass over the middle for 40-plus yards.
Dalvin Cook won't play but the Vikings still rush for 120 yards
Cook is now "unlikely" to play in week three and has missed practice this week. Cook's absence won't matter. Seattle's run defense is better than it showed in week two and Derrick Henry has a way of making defenses look silly because he is a freak of nature. But while Cook may not play, Minnesota's Alexander Mattison is still going to get over 100 yards himself with two runs over 20 yards.
Seahawks lose 36-30 as Chris Carson gets 47 yards rushing
Seattle just can't run the ball that well. Maybe it starts with center Kyle Fuller not being that great but add to that the fact that right tackle Brandon Shell is out too and Chris Carson won't have that many yards to run through.
This will be another game where Russell Wilson's passing will be the reason the Seahawks score as much as they do. Some of those passes will go to Carson but Carson simply won't get many yards running. Those that he does get will be because he forces his will against the Vikings at times instead of good blocking in front of him.