Seattle Seahawks: Week 12 underachiever and overachiever of the game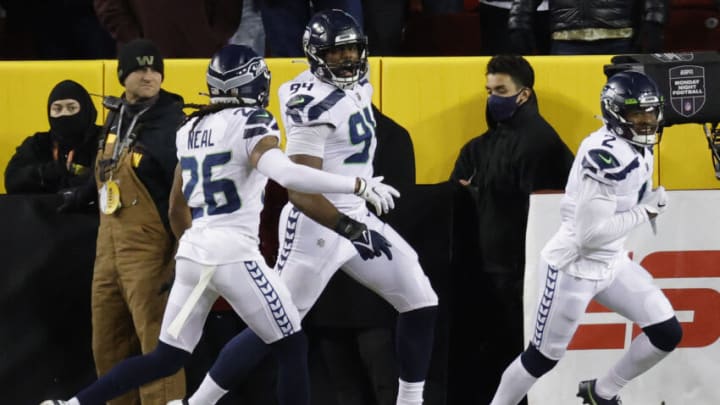 Nov 29, 2021; Landover, Maryland, USA; Seattle Seahawks defensive end Rasheem Green (94) celebrates with Seahawks safety Ryan Neal (26) after returning a blocked extra point for two points against the Washington Football Team during the second quarter at FedExField. Mandatory Credit: Geoff Burke-USA TODAY Sports /
The Seattle Seahawks fell again, this time versus a random group of guys from Washington. While one player could have done more, another truly stood out for me. That man is – spoiler alert – Rasheem Green.
The Seahawks desperately needed a win versus Football Team Monday night. You know I've been dying to write that all year; "Football Team". I've also been dying to write that the team with the real name stepped up. Sadly that wasn't the case. A couple of the Seahawks stood out for their poor performance. Others drew all the attention for the right reasons; imagine that, in a season as bad as this one.
Well, that's no way around it, 12s, so I'll just say it: Russell Wilson was the underachiever of the game. Let's face it, he's been the underachiever of the season for the entire league. Now, does all that fall on the shoulders of Number 3? No, it doesn't.
The scheme is chaotic, the staff doesn't adjust to what they're seeing, and, and – oh, just Google Seahawks offense, and you'll get at least a thousand explanations of what's wrong with this team. You'll find most of them mention the coaching, not the players. At least the correct articles will cite the coaching.
Seattle Seahawks standouts from week 12
Now for the good stuff – the overachiever. Bobby Wagner and Jordyn Brooks each had 14 tackles. Jamal Adams had nine tackles, broke up two passes, and had his second pick of the season. However…he may have only had two tackles, but I have to go with Rasheem Green again. Yes, this is about the 37th time this year he's been my overachiever. At this point, I guess I should expect him to have huge games, right? I mean, I didn't pick him as one of my breakout players on defense this season – but a lot of other people did.
But listen, when a guy does a better DK Metcalf impression than DK, he overachieved. Seriously, watch it again:
Rasheem Green can move, people. He can also move people, which makes him a rather interesting player. And these days, we 12s need all the interesting players and plays we can get. Where this season is going, well…it certainly doesn't look good. Like all seven other losses so far – you know, that "so far" part is what really gets me – this game was a microcosm of the Hawks 2021 season. On the bright side, Green's spectacular play was a microcosm of his season as well. He must have a poster in his study that reads, "Overbelieve, Overachieve".