Seahawks should have had perfect record against Tom Brady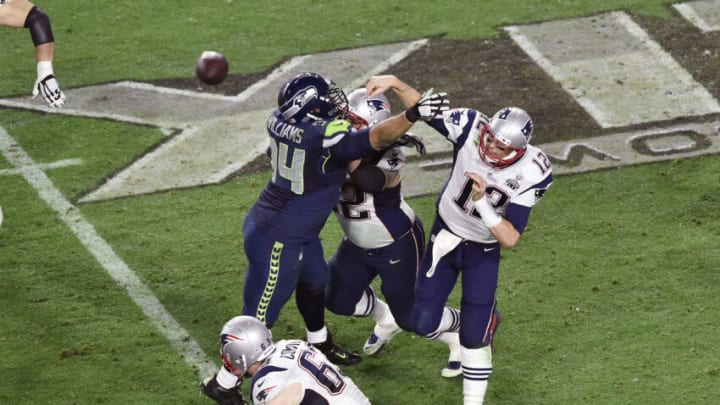 GLENDALE, AZ - FEBRUARY 01 : Tom Brady #12 of the New England Patriots gets his pass off under pressure from Kevin Williams #94 of the Seattle Seahawks in Super Bowl XLIX February 1, 2015 at the University of Phoenix Stadium in Glendale, Arizona. The Patriots won the game 28-24. (Photo by Focus on Sport/Getty Images) /
Future Hall of Fame quarterback Tom Brady announced his retirement last week. The Seattle Seahawks were one of the two teams to have a winning record against him. Brady was just 1-2 against Seattle but we all know that he should have been 0-3.
In the regular season, Seattle defeated Brady and the Patriots twice. Once in 2012 and once in 2016. Seattle never faced Brady when he was in his last two seasons and played for the Buccaneers.
The weird thing is that as good as Brady and his Patriots teams consistently were, and as good as the Seahawks were over most of the 2010s, Seattle and Tom Brady didn't play each other more than three times.
Seahawks were one of two teams with a winning record versus Tom Brady
2012
And almost every time the Seahawks and Tom Brady faced each other it was memorable. In 2012, when Seattle won 24-23, the Seahawks were an upcoming team who was learning how to be a winner. In fact, Seattle would win the Super Bowl the following season. But 2012 was Russell Wilson's first year in the NFL.
Seattle came from behind to win by outscoring New England 14-3 in the fourth quarter. After the game, Richard Sherman may or may not have asked Tom Brady a now-famous question but the game changed how the NFL would view Seattle.
2014
This one hurts, of course. The Seahawks led 24-14 heading into the fourth quarter in Super Bowl XLIX. The Patriots ended up winning 28-24. There were possible excuses for Seattle losing beside the horrible pass near the end of the game that the Patriots intercepted near the own goal line and then ran out the clock.
Richard Sherman for all intents and purposes was playing with one arm the entire game due to an injury suffered in the NFC Championship game. Cliff Avril got hurt early and had to leave the game and wouldn't come back. But Seattle should have won the game if they only handed the ball to Marshawn Lynch. We all know this.
2016
The 2016 game was much more about Russell Wilson being great than the Patriots not playing well in Seattle's 31-24 victory. Wilson was already becoming one of the better quarterbacks in the NFL by this time but he cemented his place among the best with 25 completions in 37 attempts performance that resulted in 3 touchdown passes and zero interceptions.
New England's defense was great but struggled against mobile quarterbacks and no quarterback at the time would have created more chaos for the Patriots than Wilson.
Every game where Tom Brady faced the Seahawks Russell Wilson was involved. So Brady wasn't just 1-2 (should have been 0-3) against Seattle but he was against Wilson. In those three games, Brady threw 6 touchdowns and 5 interceptions. Wilson threw 8 touchdowns and just 1 interception.