3 Seattle Seahawks 2022 free agents that did not work out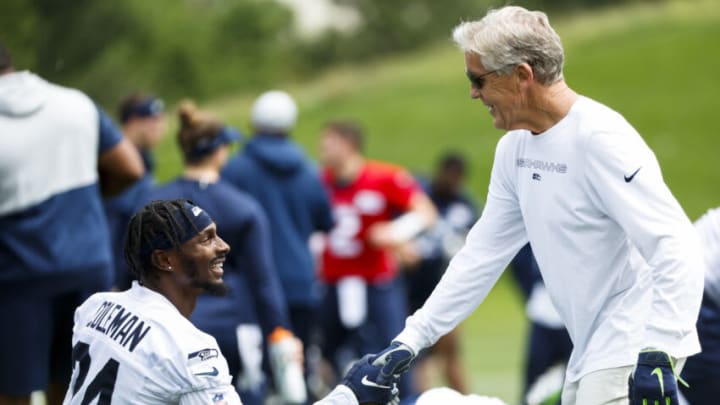 Mandatory Credit: Joe Nicholson-USA TODAY Sports /
The Seahawks certainly played beyond most expectations in 2022. It pains me to say that these free-agent pickups had so little to do with that success.
The bad news: the Hawks got almost nothing from these players. The good news – and in fact, it's really good news – it cost them almost nothing to sign them. All three of them signed one-year contracts and the total investment was just over $4.3 million. That's roughly the same as the Hawks annual Bubble Yum budget, so it was worth taking a shot on all three.
First up, and the only name that saddens me, is Justin Coleman. The vision was for Coleman to play the slot corner, a position at which he excelled in the past for Seattle. All good 12s remember his dynamic plays, especially against the despised Cowboys. Hello, Salvation Army kettle! His iconic celebration was worth ten penalties.
Seahawks didn't get the 2018 edition
Cornerback Justin Coleman
Unfortunately, the 2022 edition of Justin Coleman wasn't close to the 2018 edition. I'm not either, Mr. Coleman, so I feel your pain. The Hawks envisioned Coleman jumping right back into the position he dominated before. As we know, that didn't come close to happening in 2022. He was on the field for just 60 defensive snaps on the year, 51 of those in the first game versus the Broncos.
He only took nine more snaps at cornerback, all of those in the penultimate game vs the Jets. He did see 120 snaps on special teams, but considering that half of his 10 combined tackles came in that first game, it's hard to say that Coleman's return was anything but a bust. Let me reiterate: I love the guy and would love to see him join the Hawks staff.
Linebacker Joel Iyiegbuniwe
I have to mention linebacker Joel Iyiegbuniwe because Seattle did indeed sign him in March of last year. He got a very similar contract to Coleman's, but his impact on the Hawks was not at all the same. That is not to say that he had a greater impact because he had virtually none.
Iyiegbunwe was cut by the Hawks in August. This was despite the fact Seattle knew they'd be missing Ben Burr-Kirven this year. Iyiegbuniwe landed with the Panthers and only saw action on special teams. In essence, it cost the Seahawks nothing to see what he could give them. Or in his case, what he couldn't.
Cornerback Artie Burns
Cornerback Artie Burns completes the trifecta of free agents who brought little value to the Hawks. His contract was roughly equal to Coleman and Iyiegbuniwe's combined. His guaranteed money – $1 million – was actually twice what Geno Smith received in his deal. To say that Artie Burns didn't have a comparable season to Smith is a slight understatement. To be blunt about it, I had about as much of an impact on Seattle's season as Burns.
I'm not saying that to dog the guy, at all. I was all in on Burns at the start of the season. It's now painfully obvious that I was a bit, shall we say, optimistic in my assessment. Burns battled a nagging groin injury from late in training camp to well into the regular season. He never really found his footing in Seattle, and only appeared in three games.
He tallied 16 snaps in the defensive backfield against the Saints, and only got a few snaps on special teams thereafter. A grand total of 24 snaps for $1 million guaranteed can only be called a bust. But it certainly wasn't a disaster on the level of a Matt Flynn deal. Then again, when the busts cost you less than the signing bonus for a good hot dog vendor, you can't complain too much.