Seahawks MVPs for the 2018 regular season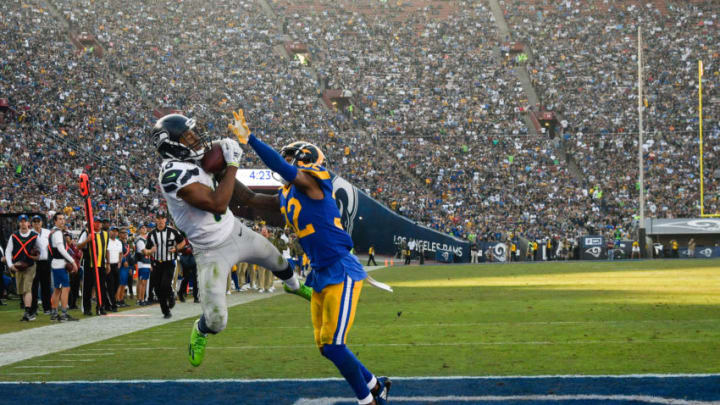 LOS ANGELES, CA - NOVEMBER 11: Wide receiver Tyler Lockett #16 of the Seattle Seahawks makes a catch to score a touchdown in front of cornerback Troy Hill #32 of the Los Angeles Rams in the third quarter at Los Angeles Memorial Coliseum on November 11, 2018 in Los Angeles, California. (Photo by John McCoy/Getty Images) /
The Seahawks finished the 2018 regular season 10-6 and made it to the playoffs. Who were the best players in each phase of Seattle's team?
The fact that the Seahawks made it to the playoffs in 2018 was extraordinary. Prior to the season there were a lot of national pundits who thought 1) Seattle would be lucky to win more than four games, 2) Pete Carroll would be spending his last season in Seattle and 3) team morale was awful.
None of the above turned out to be true. Instead, Carroll and general manager John Schneider re-tooled the roster and got rid of players like Richard Sherman who were becoming cancers in the locker room. Carroll is great with young players and the 2018 team had a young roster. One plus one equals Seattle is in the postseason.
Seattle had a bunch of players play bigger roles on this year's team. This group included players like Bradley McDougald who 12s knew was talented but was mostly playing behind Kam Chancellor and Earl Thomas at safety. McDougald got his chance to start this year and became a Pro Bowl-type safety and a team leader. McDougald is signed in Seattle through 2020. This is a great thing.
But the Seahawks also had veterans like Duane Brown play at a high level. Brown, like most of the other players on the roster, wants to play in Seattle and has bought into Carroll's team first philosophy. And a lot of these guys are under contract for a few more years.
I am going to cheat a bit on this list of MVPs, though. I am not going with Russell Wilson on offense. Doing so would be obvious and show little imagination. Clearly, Wilson is the most important players on the Seahawks. Nearly every quarterback in their team's most important player. Wilson was once again great, however. But there was one player on offense who consistently made differences in games at key times.
Here are the Seahawks MVPs on offense, defense and special teams for the regular season of 2018.