Pete Carroll saved the Seahawks season by trusting Jason Myers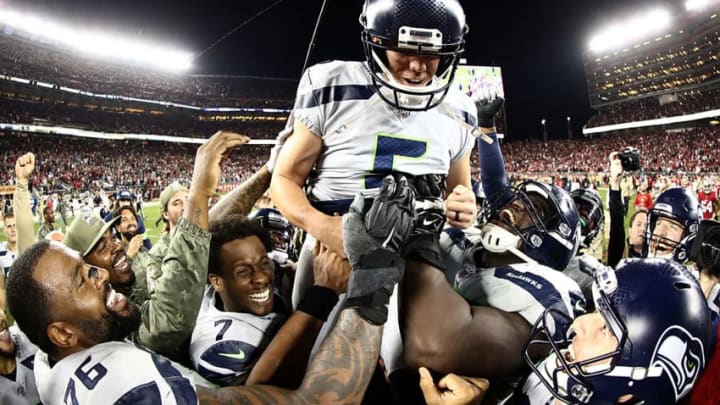 SANTA CLARA, CALIFORNIA - NOVEMBER 11: Kicker Jason Myers #5 of the Seattle Seahawks is carried off the field after making the winning 42 yard field goal in overtime to win 27-24 over the San Francisco 49ers at Levi's Stadium on November 11, 2019 in Santa Clara, California. (Photo by Ezra Shaw/Getty Images) /
SANTA CLARA, CALIFORNIA – NOVEMBER 11: Kicker Jason Myers #5 of the Seattle Seahawks kicks the winning 42 yard field goal in overtime to win 27-24 over the San Francisco 49ers at Levi's Stadium on November 11, 2019 in Santa Clara, California. (Photo by Thearon W. Henderson/Getty Images) /
Myers is still the Seahawks guy
That's one thing to bear in mind about Myers so far this season; despite his misses, he hasn't cost the Hawks a single game. I was in complete agreement with our own Lee Vowell in his assessment of Myers after the Bucs game. Myers was looking an awful lot like Blair Walsh 2.0. All 12s should be thankful that Pete Carroll knows a bit more about football and football players than we do.
After Myers' poor performance against the Bucs, Carroll made it clear that Myers was his guy. There wasn't a hint of doubt in Carroll's statement. Read for yourself, as quoted by Gregg Bell for the News Tribune:
""Our kicker, Jason Myers, he's our kicker," Carroll said. "It didn't go right today for him, but it's going to. "So we are counting on him to come back next week (at unbeaten San Francisco) and kick the winners and do all the things we need to do. "He's a magnificent talent. And today it got hard and didn't work out right. But, we won, anyway." The coach thinks Myers' teammates supporting him in the locker room will go a long way to restoring Myers' confidence and the team's faith in him. "They all said that in the locker room; they cared about him. They got his back," Carroll said. "And it couldn't have been more clear about guys coming together for one of their own.""
As it turned out, Coach Carroll was right. Myers hit the game-winning kick in overtime against the 49ers, pulling his team within a half-game of the division lead. Yes, it's a full game now, but Seattle has the win over the Niners. It's absolutely true that Seattle could play poorly the rest of the way and miss the playoffs. It's equally true that if the Seahawks had lost to the 49ers, they'd be three games back, and one down head-to-head. Seattle's chances for the division would have been finished.
Pete Carroll has always been the primary apostle of positive thinking. It's wrong to simply dismiss him as a "rah-rah" guy, though. People need encouragement in all walks of life. They need to know that the people around them believe in them, and support them. Athletes are no different. Even if they're making millions of dollars, they need support. Money doesn't believe in people. Pete Carroll does. It made all the difference for Jason Myers, and will for the Seahawks as well.