Five Seahawks legends that deserved to win a Super Bowl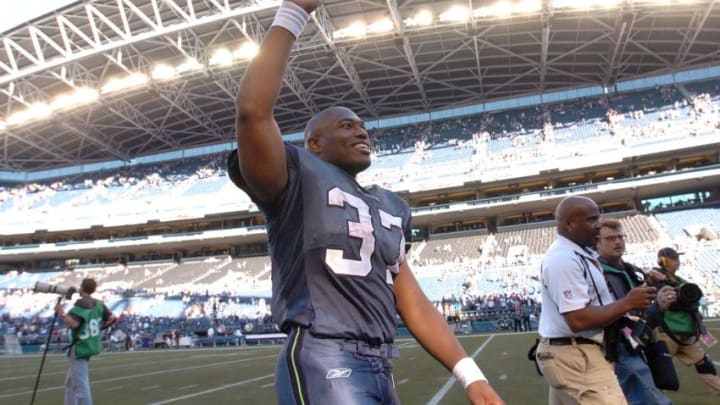 SEATTLE - SEPTEMBER 24: Shaun Alexander #37 of the Seattle Seahawks waves to the crowd as he leaves the field after the game against the New York Giants at Qwest Field on September 24, 2006 in Seattle, Washington. The Seahawks defeated the GIANTS 42-30. (Photo by Larry French/Getty Images) /
(Photo by Kirby Lee/NFLPhotoLibrary) /
Shaun Alexander
There are two arguments that can be made about Shaun Alexander. One is that he was a byproduct of one of the best offensive lines in NFL history and ran behind left tackle Walter Jones and left guard Steve Hutchinson. The second argument that can be made is that having Alexander running behind them made Jones and Hutchinson look even better.
Walter Jones and Steve Hutchinson are both now in the NFL Hall of Fame with Hutchinson being elected this year. Alexander isn't in the Hall of Fame and likely never will be because most NFL pundits probably see argument one of the previous paragraph holding more true than argument two.
But make no mistake that Alexander was a great running back. He was three-time Pro Bowler and won the NFL MVP award in 2005 after running for a league-leading 1,880 yards and scoring 27 rushing touchdowns. That's right, 27.
In five straight seasons, between 2001 and 2005, Alexander had 14 or more rushing touchdowns. He finished his career with 100. This ranks 8th all-time. Alexander is the Seahawks all-time leader in rushing yards with 9,429, attempts with 2,176, rushing touchdowns (second best is Marshawn Lynch with 58) and yards-per-game with 79.2.
If not for a few really bad calls that went against the Seahawks in the 2005 Super Bowl against the Steelers, Alexander might have that Super Bowl win he deserved.